MAKE ROOM IN YOUR LIFE FOR THIS
INFORMATIVE, CONVERSATION-PROVOKING POSTER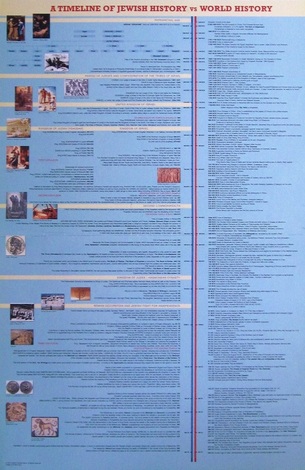 Have you ever wondered who lived first, Isaiah, Amos or Jeremiah?

Are you interested in discovering when the United Kingdom of Israel split into the Northern Kingdom of Israel and the Southern Kingdom of Judah? Would you like to see what was going on in the two Kingdoms when the Etruscans ruled the Italian Peninsula, or the Phoenicians established Carthage, or Homer composed The Illiad and The Odyssey, or when Rome was founded or when the Acropolis or the Great Wall of China were built?



FIND OUT THE ANSWERS TO THESE QUESTIONS
AND MORE....

---

This poster, measuring 24" x 36" is a graphical representation of Jewish history, juxtaposed against important events taking place elsewhere in the world at the same time. It graphically demonstrates the history of the Jewish People from the time of Abraham [ca. 2000 BCE (BC)] up to the completion of the Babylonian Talmud [ca. 500 CE (AD)]. During this period, Jewish life paralleled that of the Akkadian and Sumerian Empires, in Mesopotamia, through the fall of the Western Roman Empire in 475 CE (AD) which took place at the same time as the "Golden Age" of Indian culture.

In this poster, you can see when different Prophets lived, when books important to Judaism and Christianity were written and when other crucial historical events in Jewish history took place. You can also see when two independent Kingdoms of Israel were created (that of Israel in the North and Judah/Judea in the South). You will also see when the two Temples were erected (and destroyed) as well as when the various expulsions of Jews took place from their homeland.

All of these events can easily be related in time to important events taking place in such disparate places as Egypt, Assyria, Babylonia, Greece, Carthage, Persia, Rome, China or India. Along with the Prophets, the Timeline provides the dates of the Rabbis mentioned in the Passover Haggadah. This Timeline also gives you the opportunity to see the evolution of Judaism as it continued to grow and thrive, even in the face of such calamities as the Babylonian Exile in the 6th century BCE (BC), the deportation by the Romans of most Jews of Judea from their homeland in the 1st century CE (AD) and the destruction of the Second Temple by the most powerful nation of the time.



WHAT MAKES THIS TIMELINE UNIQUE? Because it is a large poster, it can graphically represent a comprehensive view of 2,500 years of Jewish History which can be savored in small sips while connecting with World History. Conversely, when you learn about events in Ancient World History, you can easily connect them to what was happening to Jews at the time. This should be especially meaningful and exciting to students of all ages.

Some Samples.....(The first Background color is not representative)